How Groundhog's
Garden Grew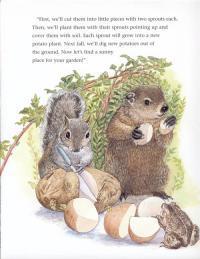 A GARDEN IN EVERY SCHOOL TOOL KIT: MAKING THE CASE FOR SCHOOLYARD GARDENS
DO YOU NEED HELP CONVINCING OTHERS ABOUT THE MERITS OF SCHOOLYARD GARDENS? CLICK ON THIS "TOOL KIT" TO SEE CURRENT RESEARCH AND GREAT WEB LINKS ABOUT THE EFFECTS OF SCHOOL GARDENS ON CHILDREN'S LEARNING, BEHAVIOR AND WELL-BEING.
CLICK HERE for a comprehensive overview of the history of school gardens, summaries of youth gardening research findings compiled by the Office of Environmental Horticulture at Virginia Tech, Blacksburg, Va.
Author's Note from Lynne Cherry from How Groundhog's Garden Grew
I wrote
How Groundhog's Garden Grew
to encourage children to grow gardens at home and at school. Until fairly recently, most people grew food in their own back yard vegetable gardens.
Few things in your life will be as important to your health as the food you eat. If you eat the right food, it will provide you with all the nourishment you need. Fresh food helps protect you from disease. So, the fresher the food you eat, the healthier you will be.
This book also mentions other fascinating aspects of gardening such as pollination and the importance of insects. On the insect page, the praying mantis asks Little Groundhog to refrain from using bug spray--pesticides--which would harm or kill them.
Probably the best thing you can do to insure your good health is not to use pesticides or herbicides. The suffix "cide" means "kill". Some of these harmful chemicals can give you cancer many years from now. Veterinarians have noticed that dogs and cats are suffering from more tumors and cancers than before and many people think that these are caused by pesticides and lawn chemicals. Take a look at this web site to learn about ways to get rid of insect pests without using chemicals that can harm children and pets.
There is so much you can learn about gardening! You need not live in a place with a lot of land to grow plants of your own; your school or town may have a space. If not, you can start a school or community garden. Or you can make your own garden by planting seeds in containers on a windowsill. Happy gardening!
To learn more about gardening, look at the follliwing issues of Nature's Course. You can link to them directly under the LINKS section of this web site.
For issues of Nature's Course on Butterflies; Heirloom and Native Seeds; Compost; Organic Gardening and Pesticides; Insects; or Spirit, Nature and Thanksgiving; write Center for Environmental Education (CEE), Antioch New England, Keene, NH 03431-3516 or view them on the web at
www.cee.org
or see their web site:
www://SchoolsGoGreen.org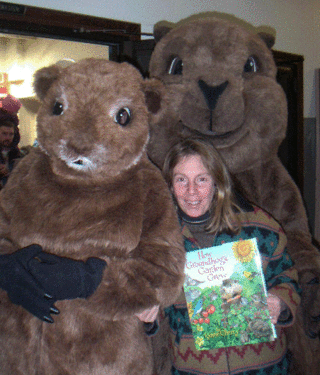 I have had my own garden all my life.
I learned from my father and mother what Little Groundhog learns from Squirrel in this story: how to plant seeds and how to care for plants by watering, weeding, and transplanting and that in order to grow, plants need sunlight, water and good earth.

As a child, I learned how to enrich the soil with compost--leaves and vegetables that have decomposed and become new earth—and today I do the same.

As my leftover food in the compost pile decomposes—rots-- it seemingly disappears. But it doesn't really disappear; it just turns into something else--new soil—rich and nutritious food for plants. Watching organic matter rot--biodegrade--and become new earth seems like magic. But it's not magic--it's science; it's life.

Insects and other living things, so small that you can't see them, eat the things you put in the compost pile and turn them into dirt.

I put composted earth in my vegetable garden because compost is rich and nutritious food for plants. The better the "food" the plants have to "eat," the healthier they are--the bigger and stronger they grow and the better they are able to resist disease and pests.

Gardening is fascinating! A tiny seed germinates, and a seedling pokes its little head above the earth. Within a month or two, that small plant is a large plant bearing wonderful, delicious vegetables which taste very little like the ones you buy in stores. When you pick a ripe, red, home-grown tomato it is warm, juicy, and delicious--not hard, pink and tasteless like some supermarket tomatoes.