How We Know What We Know About Our Changing Climate: Scientists and Kids Explore Global Warming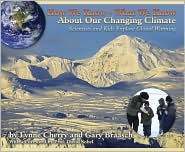 Awards and Reviews of How We Know What We Know About Our Changing Climate: Scientists and Kids Explore Global Warming
By Lynne Cherry and Gary Braasch

Winner of the Izaak Walton League of America Book of the Year Award
Winner --2009 AAAS/Subaru Best Science Book Award
ForeWord Magazine 2008 Best Book of the Year Award Finalist
John Burroughs List of Nature Books for Young Readers
Green Earth Book Award -- Honor Book 2009
Moms' Choice Awards 2009 Gold—Green Earth
School Library Journal's Best Books of 2008
National Parenting Publications Association Gold Award
Winner of Publishers' Weekly 2008 - Green Books For Kids Selection
Winner of The National Best Books 2008 Award/ Young Adult Education USA Booknews
On the 2008 "NSTA Recommends" List (National Science Teachers Association)
Brodart—Librarians' Picks for November Prime Magazine featuring Science Titles
Selected as an IPY-Endorsed Polar book by International Polar Year

What Reviewers Are Saying:
This clear, detailed explanation demonstrates that we know about climate change through research by scientists and students at home and in the field - patient observation and investigations that lead to information about Earth's climate history. Environmentalist Cherry collaborates with photojournalist Braasch to distill the information in the latter's adult Earth under Fire (2007), adding examples of young people whose participation in citizen science projects through their schools supports the ongoing work of documenting these changes. The topically organized text is informative and accessible, explicit in its message, positive in tone and particularly useful in its broad array of examples and suggestions for student involvement in both inquiry and solutions. Numerous small photographs show children and adults around the world, a wide range of affected wildlife and effects of climate change on the landscape. A lengthy "Resources" section includes both books and a variety of information and action sources with Internet addresses. The scientists whose work is described are listed in a separate index, identified by position. A must for school libraries, and science teachers may want copies of their own. (index) (Nonfiction. 10-14) Kirkus Reviews (March 1, 2008) - Starred Review

Veteran science writer Cherry and award-winning photographer Braasch team up to make climate change less frightening by showing children how to empower themselves as "citizen scientists." Cherry begins with a no-nonsense chapter about hypotheses and theories, facts versus belief. She goes on to explain how observation can help bring about climate-change strategies; the information about children involved with Project Budburst is particulary interesting. Along the way, there are examples of how nature is changing-from migrations to melting icecaps to rising coastlines-and how these changes have been observed. The second section, "Fitting the Clues Together," considers what scientists do with their information and notes successes that have been achieved (for example, species saved and reduction of carbon footprints) and ways kids can help reduce energy. The can-do emphasis helps to make the topic less depressing, and the intriguing color photographs are thoughtful and upbeat. Many scientists were called upon during the writing of this book, and it shows. ALA Booklist (February 15, 2008)

Cherry and Braasch introduce readers to scientists around the world whose research contributes to an understanding of the causes and consequences of global warming….the au-thors consistently note ways in which students can have a positive impact by making personal choices and influencing public policy. A concluding spread identifies the more than 40 scientists mentioned in the text. The book's wide-ranging exploration of scientific studies and the encouragement to people of every age to become citizen scientists and active participants for change make this a valuable purchase. School Library Journal (June 2008) - Starred Review

Meant to be like a youth version of Braasch's Earth Under Fire: How Global Warming Is Changing the World, this beautifully photographed global guide offers a look at how research in diverse fields leads to an understanding of the warming climate - and what children and adults are doing about it. The first and largest of the book's four sections, "Where We Find Clues About Climate Change," presents researchers, citizen scientists and schoolchildren examining the natural world and unearthing data about climate. Spreads jump from topic to topic, from rainforests to tree rings, oceanic mud samples to 800,000-year-old ice cores. The empowering "What Scientists and You Can Do" section provides practical, proactive suggestions, e.g., eating less meat, drinking tap instead of bottled water… Cherry (The Great Kapok Tree) immediately and clearly defines all science terms….. Readers young and old looking to make a difference will appreciate the book's hopeful tone as well as its comprehensive resource lists. Ages 10-14.
Publisher's Weekly (March 10, 2008) - Starred Review

Front and center in this excellent book are the data upon which explanations for rapid climate change are built. Each double-page spread in the first two-thirds of the book features a research project revealing changes in ecosystems - in the behaviors of butterflies and penguins, in the sizes of glaciers and sea levels, and in the amounts of carbon dioxide in the atmosphere. The carefully built progression of cases - just a small sampling of the vast amount of data out there - drives home the message that change really is occurring, and that the rate of change is accelerating. A highlight of the book (and a hallmark of this field) is that data are being collected not just by scientists but also by naturalists, children, and other concerned citizens. Illustrations include sharp color photographs of researchers and children in the field and laboratories as well as age-appropriate graphs and tables that transform basic observations into evidence. A strong underlying message is that committed readers can make a difference; the last section of the book and the end materials include an index, an exhaustive list of resources, a directory of scientists, encouragement for readers to get involved in both science and conservation, and suggestions for making a difference that are laudably nontrivial.
Horn Book Magazine (Sept/Oct 2008)

…Cherry and Braasch walk readers through the scientific method, explaining how observation and experimentation can illuminate the world around us. The fascinating case studies manifest climate change include bird and butterfly migration, cloud forest amphibians, and the tundra food chain. Focusing on the science - and not the politics of peril - lessens the worry inherent in the subject. The authors smartly play up the wondrous diversity of a world worth saving - and convince readers that science has the power to do so. Horn Book Guide - Claire E. Gross (June 2008)

When middle school students at a school in Vermont noticed that breathing the air made them feel ill, they also realized the buses sat outside with idling motors mornings and afternoons. Upon discovering the fumes contained twelve different pollutants, they petitioned the school board for a "no-idling" policy. In February 2007, it became a state law. That's the kind of environmental awareness promoted in this very timely book. By using science, 4th through 9th graders are introduced to the world around them. An award-winning children's author and illustrator of more than thirty books, Cherry wrote the classic The Great Kapok Tree: A Tale of the Amazon Rain Forest eighteen years ago. Nature is a theme prevalent in later books as well, including Flute_s Journey: The Life of a Wood Thrush and How the Groundhog_s Garden Grew. NSTA Recommends (Nat. Science Teachers Assoc.) - Suzanne Flynn - (March 2008)

This beautiful and informative book fills a major gap in environmental writing for children. I'm impressed by the way it covers a wide range of research in different scientific fields, defining technical terms gracefully and naturally as they arise. The overall tone - urgent without being shrill, hopeful without being complacent - strikes me as just right. I would happily recommend it. Robert Coontz, editor, Science Magazine

This is a necessary book. It treats kids with respect - they deserve to know what's going on. But they also deserve to know that there's much that can be done, and much that is being done. In a word, it's empowering! Bill McKibben, author,
The End of Nature and Deep Economy

See http://www.dawnpub.com/shopping_cart/INDEX.CFM?Do=Reviews&ProductID=135 for additional reviews by Sarah Steingraeber for Orion Magazine, Heidi Cullen of the Weather Channel and many others.